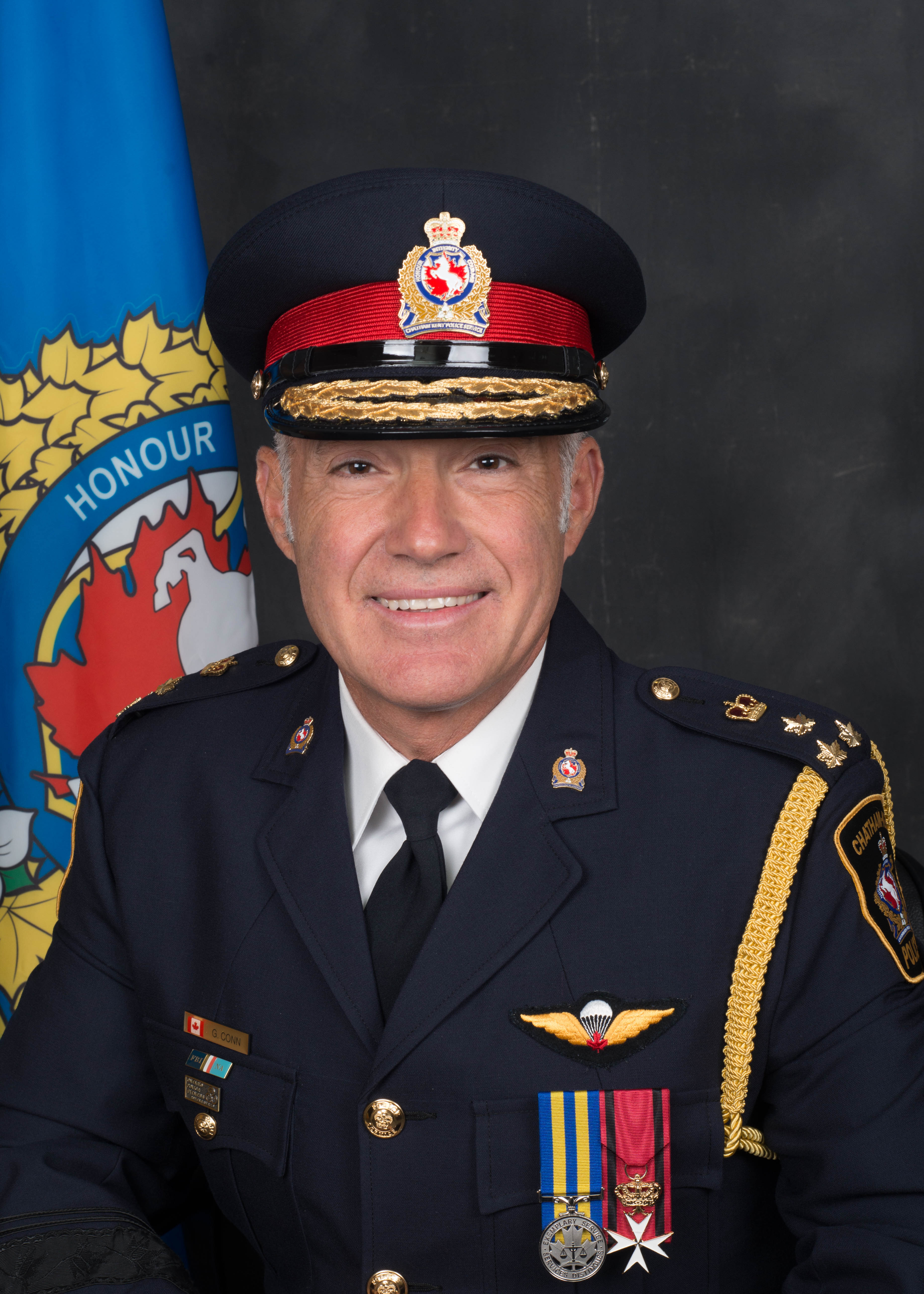 Chief of Police: Gary Conn
(519) 436-6603
Gary Conn was born and raised in London, Ontario where he graduated from the University of Western Ontario with a Bachelor of Arts Degree in Sociology.  He subsequently enrolled in the Canadian Armed Forces and was commissioned as a Second Lieutenant.  In 1995, Gary joined the Ministry of Community Safety and Correctional Services, however a few months later he was hired by the London Police Service. In 1998, he joined the newly-amalgamated Chatham-Kent Police Service where he worked in General Patrol and Traffic.
In 2002, he was seconded to the Ontario Police College where he taught a number of use of force courses, including Firearms, Defensive Tactics, Police Vehicle Operations and Officer Safety to new recruits. Upon his return from the two-year posting he was promoted to Sergeant. As a Sergeant, he served as a Patrol Supervisor, Training Sergeant, District Sergeant, Professional Standards Investigator and Officer-In-Charge of Court Services.  Later as the Deputy Chief, Gary oversaw all three Branches of our Service including the Community Patrol Branch, Operational Support and Administrative Support.
Gary has continued his education at Western University, where he has completed his Graduate Diploma in Public Administration and Master's Degree in Public Administration. Gary is also a Police Leadership graduate from the University of Toronto's Rotman School of Business and is also a graduate of the FBI National Executive Institute as well as a distinguished graduate from the FBI National Academy, Session 258.  He further obtained a Graduate Diploma from the University of Virginia in Criminal Justice Education.  He has completed numerous courses in police operations and management through the Ontario Police College, and is a certified Level III Municipal Manager with the Ontario Municipal Management Institute.
He has taught for nine years as an itinerant instructor in the Police Foundations Program, as well as Law and Security at St. Clair College. Gary is a Board Director for the Chatham-Kent Women's Centre, member of the CACP Use of Force Advisory Committee, OACP Vice-Director for Zone 6, a Companion member of the Hospitaller Order of St. John of Jerusalem, London Commandery and a member of the Parthenon Masonic Lodge in Chatham.