Pipes and Drums
The Chatham-Kent Police Pipes and Drums were formed three years ago for ceremonial purposes and consisted of three pipers and one side drummer. The band has played each year at the Chatham-Kent Police Memorial Service, the Ontario Police Memorial Service in Toronto in May and the National Police Memorial Service in Ottawa in September. The band has also played at the Chatham-Kent Police Service Annual Awards and Retiree's Banquet as well as at other selected functions.
In the fall of 2011, Chief Dennis Poole authorized the expansion of the Pipes and Drums band for not only the existing engagements but also for competitive purposes. The band has expanded to include 9 pipers, 4 side drummers and a bass player. The band is led by Pipe Major Ken Poole, Pipe Sergeant/Band Manager Jim Niven, Drum Sergeant Katie Burchiel and Instructor Tyler Harris.
For the 2012 competitive season, the Pipes and Drums band will be competing in Grade 5. The band will further compete in the Toronto Indoor Games, London Indoor Games, Alma Highland Games (U.S. Championships), Georgetown, Kincardine, Cambridge, Fergus Highland Games and at the Maxville Highland Games for the North American Championships.
The Pipes and Drums band wears the National Millennium Tartan on their kilts. Any questions in regards to the band, membership or booking, please contact Jim Niven at Jimn856@yahoo.ca
Rear Rank: Ken Poole, Robert Stafford, Stephen Arseneault, John Johnston and Jim Niven
Middle Rank: Nick Ferris
Front Rank: Sarah Rooke, Robert Easton, Dan Vinter, Katie Burchiel, Richard Brewer, Drew Sydorko and Bill McMaster
Absent: Joel Merilees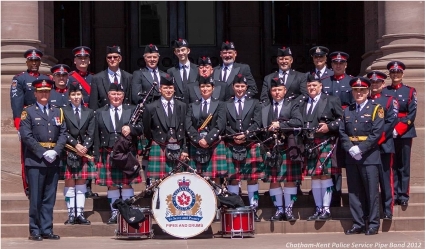 CKPS Pipes and Drums along with CKPS Honour Guard in front of the Legislature in Toronto