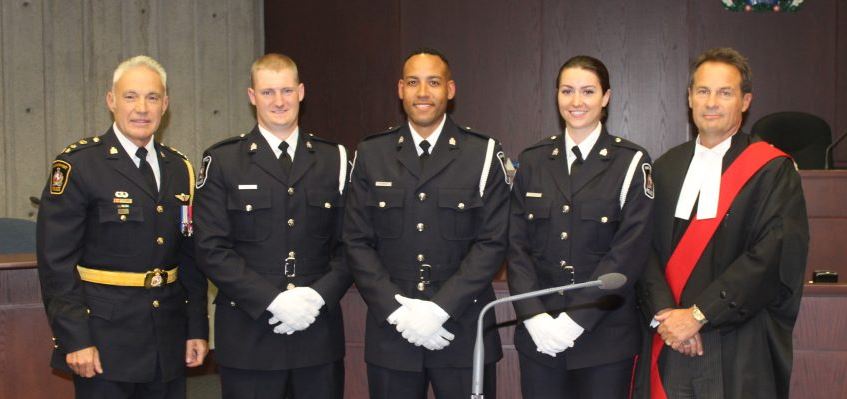 Swearing-in Ceremony of New Recruits at the Courthouse – photo credit Blackburn News
Requirements for Police Recruits
Applicants for the position of Constable with the Chatham-Kent Police Service must meet the following requirements:
Be a Canadian citizen or a permanent resident of Canada.
Police Constable applicants must be at least 21 years of age.
Be of good moral character and habits. (A pardon must have been obtained for any criminal convictions.)
Hold an Ontario Secondary School Graduation Diploma (Grade 12) or an approved equivalent and/or a diploma or degree from an accredited College or University.
Must possess a current Ontario G class driver's license. (maximum six demerit point accumulation)
Pass the medical, physical, aptitude and visual tests to determine that the candidate is physically and mentally able to perform the duties of police officer, having regard to his or her own safety and the safety of members of the public, including specific requirements as follows:

Height/Weight Ratio: weight must be proportionate to height
Vision Requirements: uncorrected 20/40 correctable to 20/20 Colour Vision. Candidates will produce an eye examination certificate from a qualified medical practitioner or optometrist both corrected and uncorrected vision as well as the status of colour vision.

Applicants must provide an O.A.C.P. Constable Selection System Certificate of Results. The copy of results must be current during the period of the posting/application time.  Applications with expired or no certifications will be accepted, but must be updated with passing certificates, before the closing date.  This Certificate confirms that the holder successfully completed Step 6 of a police constable pre-interview screening procedure that is recognized and sponsored by the Ontario Association of Chiefs of Police. The O.A.C.P. has engaged an independent firm, Applicant Testing Services, Inc. (ATS) to conduct this screening procedure. Details of the testing and scheduled test dates can be found on the ATS website, http://www.applicanttesting.com/
Applicants must produce current and valid certificates in Standard First Aid and CPR.
Provide copies of the following:

Birth Certificate
Current Driver's License
Education Documents

Complete the following 4 forms and submit along with resume and cover letter.  *A valid e-mail address must be included on the resume for contact purposes*.
Present for physical test and interviews as required.
Be subjected to an intensive background investigation.
Take an Oath of Office and Oath of Secrecy.
CKPS Recruit Selection Testing
The Chatham-Kent Police Service strives to attract, identify and hire the best available candidates and thereby ensure those candidates will contribute to the professionalism of our organization. The CKPS Recruit Selection Testing is an important component of our selection process as it assists us to identify those best candidates.
CKPS Recruit Physical Test
Those eligible to do the CKPS Recruit Physical Test will be required to complete a 2.4 km (1.5 mile) run.
Candidates must achieve an overall score of 70/100 or higher (35/50)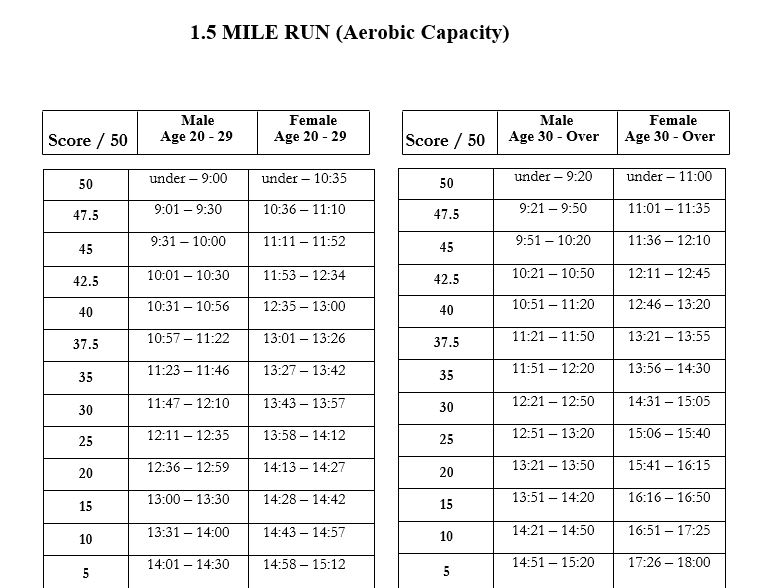 Candidates will be required to sign a Fitness Liability Release Form.
Those in attendance should ensure that they bring proper attire for the weather as the run may be completed on an indoor or outdoor track.
Moving On to Interviews
Those candidates who successfully complete the above components of the CKPS Recruit Selection Testing are then considered for advancement through the selection process. Recruiting personnel create a short-list of top prospective candidates considering their testing scores and resume information. Those short-listed are invited to a Preliminary Selection Interview.
Successful candidates will move forward to the next phase of the Recruiting Process which includes a Background Check and Final Selection Panel Interview.
Candidates in the final stages of the selection process will also be required to complete a psychological assessment at their own expense.
Direct Entry Applicants (current serving police officers in Ontario)
The Chatham-Kent Police Service does accept applications from current serving police officers in Canada. The only difference in the process will be they do not have to possess a current "OACP Constable Selection System certificate."
Direct Hire candidates will have to undergo a psychological assessment at their own expense.
Applications may be submitted at police headquarters to the attention of Inspector Trevor Crane.
The Chatham-Kent Police Service will also accept applications via email.
Please email Insp. Trevor Crane at trevorc@chatham-kent.ca 
If submitting an application via email, please ensure all required documents are attached in PDF format.  
The file name must contain your first and last name.  Example: JaneDoeCKPSapplication.pdf