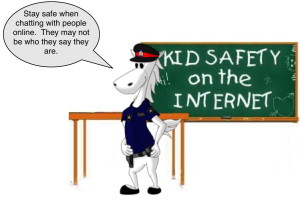 Kids SMARTS
To help ensure the safety of children during isolation, Community Safety Net has made their resources freely available to all. This gives every family the ability to teach essential safety tips to their kids along with tips on how to talk to them about COVID-19. For more information, please see Kids | Community Safety Net
TIPS FOR INTERNET SAFETY
Never give out any personal information, such as your address, phone number, password or photograph, without your parents' permission.
Talk to your parents if you ever feel uncomfortable with what you see on the Internet or if anyone is bothering you online.
Be polite and respectful of others online. Don't use bad language, even as a joke (others may not know you're kidding).
Get your parents' permission before filling out forms for any contests, free stuff or online services. It's like giving your information to strangers on the street and you never know who will see it.
Tell your parents about the people you meet online, just like you tell them about the friends you make at school. Your parents can help you deal with problems you may run into.
BIKE SAFETY/THEFT PREVENTION
Always lock your bicycle.
If your bicycle is at home, keep it in a locked garage, basement or room, not in the yard or driveway.
Lock your bicycle by placing a chain or cable through both wheels, the frame and around a stationary object.
Use a high quality lock and case-hardened chain or cable to lock your bike.
Record the serial number of your bicycle and keep it, along with the sales receipt.
Do:
Ride with traffic. Keep to the right of the road.
Obey all traffic regulations.
Use proper hand signals for turning or stopping.
Stop and look both ways in order to make sure that sidewalks or streets are clear before entering a street.
Walk your bicycle across busy streets at corners or crosswalks.
Use proper headlights and red tail light or reflector when riding at night.
Don't:
Show off. Keep your hands on the handlebars.
Zigzag, race or stunt-ride in traffic.
Hitch rides on trucks or cars.
STRANGERS
Who is a stranger?
A stranger is a person whom you have never met before; a person you may have seen before, but whom you don't know anything about (for example, someone you've seen walking in your neighbourhood); a person whom your parents don't know well.
What do strangers look like?
Strangers can be men or women, young or old. They can have any colour skin. Some are tall and skinny; some are short and fat. Some strangers are pretty and some are not so pretty. They can speak different languages. Most strangers are nice, but some strangers are mean. Because you don't know if someone is a good stranger or a bad one, you should not talk to anyone you don't know.
Should you ever get into a car with someone you and your parents don't know?
NO. Never accept a ride from a stranger.
If a stranger tries to talk to you, what should you do?
Do not talk to the person. Get away fast and tell a trusted grown-up.
Who has a secret code word with their parents?
A secret code word is a word that only you and your parents know. If there is an emergency and someone you don't know has to pick you up from school or from a friend's house, ask that person the secret code word. If he or she doesn't know the secret code word, don't go. Get away and go to a grown-up you know and trust for help.
How to Keep Kids Safe When They're Home Alone https://www.homeadvisor.com/r/child-safety-guide-home-alone/
Games